Do you want a fail-safe way to improve your business performance? The answer would be definitely YES.
For that, all you have to do is give your customers a strong reason to form an emotional connection with your business.
Overall, 74% of businesses using CRM report agree of having better customer relationships as a powerful marketing weapon.
Money can not buy one of the most important things vital for your business: relationships. You might think now customer relationships drive your business? That's true!
Good customer relationships are based on good customer experience. Developing strong relations with customers and creating great customer relationship management examples encourage faster business growth, gain new customers, and retain the existing ones.
The top customer relationship management examples discussed in the blog show how brands put effort into structuring good customer relationships.
What is Customer Relationship Management (CRM)?
Customer relationship management refers to the art of managing good customer relationships and prospective customers. It is all about understanding who your customers and potential customers are, and nurturing the relationships you have with them. It is about identifying client expectations and how you meet or go beyond their expectations.
A customer relationship model seeks to improve the relationship between a business and the customer. For this, they drive new trends and provide profits for current and future operations and investments.
The below model is one approach to implement CRM.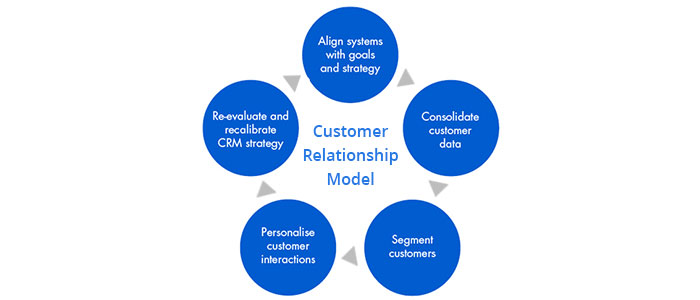 Customer relationship management model can be further categorized into below stages
Awareness – It is the first touchpoint where prospects try to know more about your brand as a whole.
Discovery – Then you learn and identify the needs of the prospects and share information to fulfill their requirements.
Evaluation – Moving ahead the prospects compare and evaluate your products/services with your competitors.
Intent – Finally your prospect is convinced and made a decision of buying from you.
Purchase – After making the payment the deal is done and the prospect converts into your customer.
Loyalty –  Make a follow-up after purchase to determine customer success with your product and ask for referrals.
How Creating Good Customer Relationship Management (CRM) Foundation Matter?
Customers are the heartbeat of all businesses. Therefore, creating good customer engagement examples by strengthening relationships with clients is crucial for business success. Through good and bad times, maintaining a healthy customer relationship with all your customers will help in sustaining the performance of your business.
Whether it is online event companies or trade events, this reason is making/forcing businesses to develop an excellent customer relationship for maintaining good performance. Developing good CRM and marketing helps your business to set better customer relationship management examples.
Let's talk about the key areas of  developing good customer relationship management
Results in good customer experience – CRM is about creating relationships with your customers so that, they enjoy positive experiences when interacting with your brand.
Growth in customer retention rates – Positive experiences fuels customer retention. Your customers are loyal towards your brand and turn as brand advocates.
High level of customer satisfaction – When you meet your customer expectations with your exceptional service it boosts satisfaction level and they are likely to return to your business again.
So, now let us find out businesses have used innovative customer relationship management and marketing models/strategies.
8 Examples of Innovative Marketing & Customer Relationship Management (CRM)
In order to improve customer relationships, you need to focus on each and every interaction made by customers with your brand. Here are some of the best customer relationship management examples that delve important customer interactions.
1. Deliver live assistance to boost customer engagement
Aberdeen Group's study found that businesses using visual engagement tools marked an 83% year on year increase in annual revenue and achieve 2.7x greater annual improvement (decrease) in customer effort score.
Live assistance is gaining ground as a prominent communication channel for banks as it makes interaction easier. It helps to wrap up a large part of the customer journey context and boost customer satisfaction.
Instead of waiting for bank visits to carry out key transactions like applying for a loan, via using visual tools like video chat and co-browsing, customers gain faster as well as in-person engagement. Live engagement platforms offer face to face video chat assistance that assures security to customers for handling their finances via direct conversation remotely.
Co-browsing solution greatly impacts online customer support by empowering your agents to converse over the customer's browser and assist to the right page or filling up forms.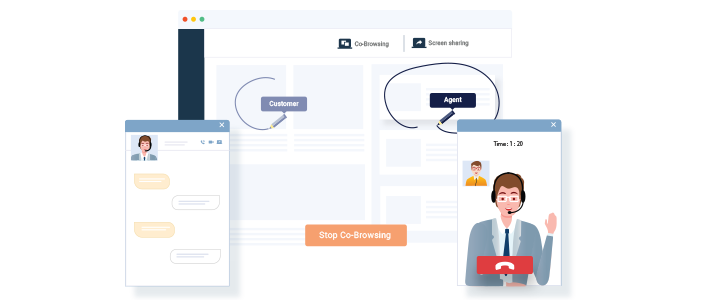 Benefits of virtual banking with live assistance tools 
Combining video chat and co-browsing allows the agents to deliver a personalized banking experience.
Agents are able to serve customers for the first time reducing the number of contacts required for assistance.
Using live collaboration tools for banking support boosts customer trust and satisfaction.
Commercial Bank of Kuwait (CBK), the leading bank has implemented REVE Chat's video and co-browsing solution to deliver live assistance to its customers. With live tools, the bank has witnessed a significant increase in customer engagement.
Sign Up with REVE Chat and offer personalized customer service by directly interacting with them and learning the root of of the issue.
Takeaways
If your customer touchpoints require live support, engage them with one on one video chat or co-browsing solution.
You should identify your customer journey and provide live assistance for better resolution and customer service experience.
2. Have an omnichannel presence
As technology has evolved, the number of communication channels has also grown exponentially. Businesses now have multiple marketing and customer service channels to communicate with their customers, including both offline and online methods.
Having more communication channels is a good thing for a business as it makes the ability to interact with customers, and serve them. With omni channel support, you can integrate text, instant messaging, social to deliver a unified brand experience so that customers can switch between multiple channels still experience consistent service.
Oasis, one of the leading women's clothing brands, focused on delivering the best omni channel experience to its customers.
It focused on three main areas to give a better experience to its customers
Identified the most preferred channels for customer touchpoints
Developed a strategy to engage and support them across all those touchpoints
Delivered a consistent experience throughout the customer journey
As it identified that maximum touchpoints were made via social platforms, it thought of doing something different to impress its Instagram followers.

It created a special gallery of user-generated Instagram content, substantially encouraging customers to model the clothes they have bought from the Oasis store.
Takeaways:
Know your customer's preferred channels to reach your business and be available for real time support.
Improve your customer relationships by delivering a consistent multi channel support experience.
3. Automate customer support
Delayed response is one of the top reasons why customers decline and leave you at risk of your competitors. Nothing makes a customer happy and satisfied than a faster response.
Ubisend study says, 21% of consumers believe chatbots are the easiest way to contact a business.
Automating customer support with the best chatbots can redefine your customer satisfaction rates by improving your response times, engagement, and your customers' interests. Real-time service is invaluable in retaining your current relationships and prospects as well.
Chatbots also help businesses to
Direct customers to the genuine answers that reduce the number of support tickets raised by customers.
Feed your bot with general FAQs and train with relevant answers so that it follows the same pattern to serve customers in the future.
Hipmunk, a famous travel platform used searching for travel deals. It attempted to use the AI technology to engage customers at a closer level and created Hello chatbot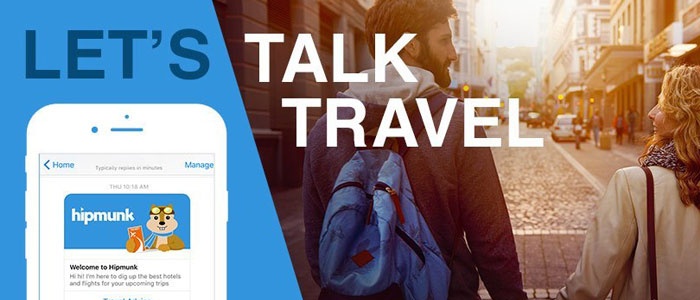 How the Hello chatbot helped customers?
To search and reserve the travel activity of their choice.
The chatbot determines the location of the customer, then aggregates and promotes discounts/deals on travel packages.
It can be integrated with various chat applications like Facebook, Skype.
Some takeaways for you:
You can place chatbots for initiating chat and collect basic information from website visitors & customers and engage them.
You can engage your customers 24×7 when the support team is not available. It reduces the number of support requests and boosts customer satisfaction.
4. Continuous marketing engagement
Lack of engagement is one of the big red flags for customers churn with your business. The trick to avoiding this problem is to keep them happy and engaged in post sales. Because loyal customers are far more profitable than new customers.
How do you do that?
It can be a daunting task to maintain continuous engagement with your customers to offer support to foster this crucial business relationship.
But the thumb rule is: the better is the engagement, the happier your customers are. When customers are engaged correctly they are more likely to retain, recommend, and buy more. If your customer engagement strategies are effective, they will positively impact your KPIs.
Here are some strategies to improve continuous marketing engagement:
Send a thank you email as a token of appreciation and connects you with them with a positive impression. And the base of creating customer relationships is connecting with people.
Ask for reviews to measure your customer success with your products and services. You can encourage customers to provide reviews, you can entice them with a discount or special deal, like free shipping on their next order.
Cross-sell or upsell your products through post purchase emails. Notify your customers on your new products and also offer product recommendations based on their previous purchase.
Request for referrals is an effective form of marketing. People tend to make a purchase for sure when it is recommended by a friend or family. The best time to request a referral after the sale is closed.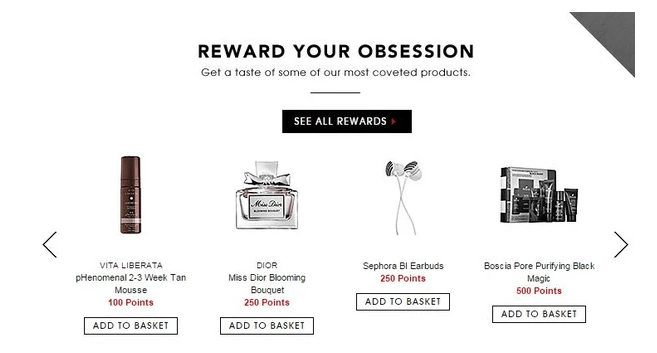 Sephora's Beauty Insider rewards program is globally popular.
The program records more than 17 million loyal members, and members make up as much as 80% of Sephora's annual sales.
Customers earn rewards for each purchase based on a traditional point system.
The best part is that members can choose how to use their reward points.
Takeaways:
You are supposed to keep your customers engaged after the sales. It should not be only the part of the customer journey.
When you engage your customers post sales they feel valued and this improves customer retention
5. Use social media for customer service
Social media has emerged as a crucial touchpoint in structuring customer relationships. Customers share their positive as well as negative reviews and experiences over social and expect an immediate response.
According to Gartner, churn increases by up to 15% for businesses that fail to respond to messages on social media.
Popular social channels like Instagram, Facebook, LinkedIn, and Twitter is not just for business promotion. They can be used to connect with your customers. Almost 78% of customers want brands to help people connect through social media.
Framing good customer relationships on social media help businesses to improve relationships with customers by making them feel connected to your brand.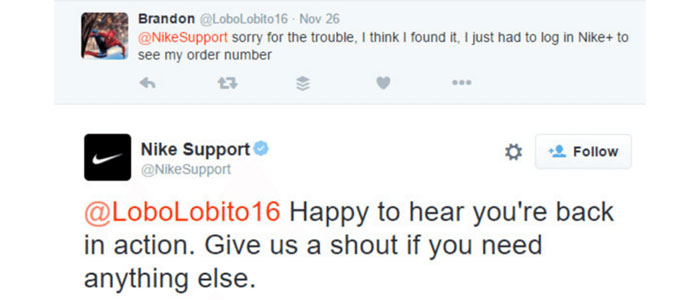 Make your customers feel happy after interacting with you. It helps in creating strong connections with customers over social media. For instance, Nike engages its customers and make them feel they are available in fixing their issues even though customers can find the solution themselves.
Takeaways:
You should respond faster to social reviews and posts and develop customer trust.
It is recommended to personalize your conversations while talking directly with customers.
Offer rewards to your customers with campaigns and contests to set good customer relationship management examples.
6. Improve your conversion rates
Your customers are your greatest assets as they are the ones who will vouch for the quality of your products and services. If you play your cards right you when it comes to customer experience, your customers can turn into your marketing representatives.
And how having customers as marketing professionals is effective?
If customers are satisfied with your service they turn to their friends and family for recommendations. They share their success stories with your brand with a positive word of mouth.
Referrals convert at 3-5 times a higher rate than other marketing methods. The referred customers are more loyal and have higher lifetime values.
Casper Mattress company came with an irresistible offer.  It offered to take a mattress home and sleep on it for 100 days before deciding whether to return it. Such an amazing offer along with quick online ordering and home delivery – nobody wanted to miss it.
Giving a long trial period eliminated the greatest fears about buying a high-end mattress. Customers had plenty of time to test the mattress for comfort and durability.
Customers had the mattress in their homes that they could use and show to others. Casper at the same time circulated detailed ads and reviews on social media.
Takeaway:
You should focus on your customer service strategies. When your customers are satisfied they retain with your business and advocate your brand with positive word of mouth.
7. Increase customer satisfaction
Forrester's research indicates that expectations toward customer service are related to three main factors: the success of the solving process, ease of the solving process, and emotions during the solving process.
The journey of providing your customers with a positive experience starts from the moment they visit on your website and extends beyond the moment they become your customer.
Keeping your customer's expectations a top priority and going the extra mile to meet those expectations will boost their satisfaction and set great customer delight examples.
A customer's experience and feedback should be the factors that validate important decisions within your business. Seeking for customers' feedback and implementing it make the customers feel.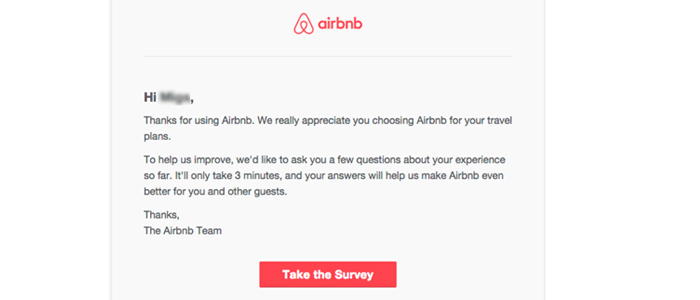 Airbnb surveys take customer's opinions after their stay, giving them the space to decide whether they want to share their feedback or not. Airbnb has increased the number of bookings by 25%, just with their referral program.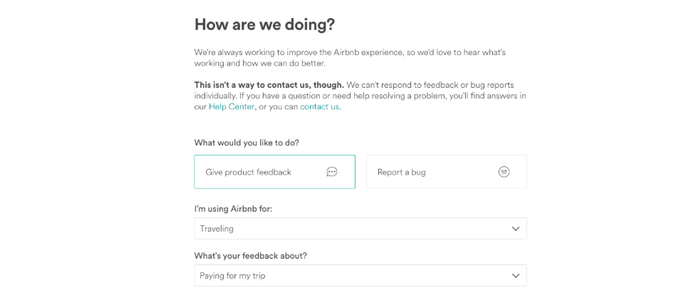 Takeaway:
You should learn about your customer experiences and try to fulfill them to deliver a positive experience. Positive experiences boost customer satisfaction.
8. Develop a strong brand image
Every business puts its best efforts to develop a strong brand image for fueling business-customer relationship. Strong brand image impacts in increasing the trust level in customers and helps in customer retention.
Successful branding leads to increased customer loyalty, an improved image, and a relatable identity. TSL Marketing
The brand image can be strengthened through making use of brand communication with word of mouth.
Colgate, for example, is a popular brand name. It has built an image in customers that it is the best product for maintaining their dental health. Usually, customers go for Colgate as a brand as they are strongly connected with it.
Takeaway:
Brand image has great importance. Put your best efforts to develop your brand image and maintain the trust of your customers.
Final Thoughts on Customer Relationship Management Examples
Customer relationship management is an integral part of every section of the business. It is not limited to customer support only rather it applies for the whole customer life cycle across their journey.
Developing long-lasting customer relationships is crucial for businesses as it helps your brand to stand out and give customers reasons to emotionally connect with you. However, having a strong foundation of customer relationship is the base of every business.
Businesses are different but the core essence of success will always remain the same. And REVE Chat's live chat platform allows you to understand and address customer concerns in real time that strengthens customer relationships. Sign up today to set an excellent customer relationship management example.
4 Examples of Businesses Using CRM to Improve Productivity and Efficiency
Customers are the mortar that keep businesses together, and happy, invested ones are the underlying foundation for success. But how do you ensure that customers are happy? Research conducted by Marketing Professor Patti Williams at The Wharton School confirmed that "evoking feelings of pride and awe are two ways that companies can forge deeper connections with their audiences."
Salesforce Research found that trusting a company is important to customers, and a trusting relationship results in more than just customer satisfaction. Customers who trust a company are more likely to:
Be loyal: 95%
Recommend that company: 93%
Buy more products and services: 92%
Buy more frequently: 91%
Spend more money: 88%
Share their experiences: 86%
Managing customer relationships is critical to business success, and a customer relationship management (CRM) platform lets companies large and small organize, automate, and synchronize every facet of customer interactions. CRM system examples include platforms built to manage marketing, sales, customer service, and support, all connected to help companies work more effectively.
With a CRM system, businesses can analyze customer interactions and improve their customer relationships. This technology is widely embraced throughout the business world, and the global CRM software market is projected to grow at a compound annual growth rate of 6% a year, with an estimated valuation of approximately $35 billion in 2023. Of course, if you're considering investing in a CRM solution, you're likely to be less interested in the big numbers and global picture and more concerned with how your company can use a CRM platform to improve productivity, efficiency, and customer satisfaction.
Let's take a look at four CRM success stories. They illustrate how a CRM platform has helped businesses of all sizes perfect the art of customer satisfaction.
When an organization is responsible for keeping track of approximately $1.9 trillion in assets and roughly 70 million customers, staying organized is critical. Just ask Wells Fargo, the seventh most profitable company in the United States.
To be efficient, large companies need to align communication and technology. Wells Fargo uses its CRM platform to keep all its services, including banking, mortgages, investing, and credit cards, in sync. The business impact of its technology investments, from software that helps the company with customer relationship management to tools that help departments run smoothly, is monumental:
Greater focus on high-value work because the bank can save time on customer service
Increased end-user productivity
More attention for important projects because automated workflows, optimized platforms, and reliable platforms save time and energy
Thanks to Wells Fargo's commitment to its CRM system, the bank has saved hundreds of nonproductive IT and business hours. It's also reduced technical debt and created systems that drive innovation and business growth.
Learn more about how Wells Fargo has put customer relationship management at the forefront of its business by streamlining activities behind the scenes.
The four brands that make up Bespoke Collection speak to its commitment to fine wines, elegant art experiences, and unique customer experiences. Bespoke provides the top-tier customer experience it's known for by building deeply involved relationships via its loyalty programs and memberships. The team behind Bespoke also works hard to understand the company's customers and which behaviors are associated with buying habits.
As Bespoke's customer base grew, managing customer data became a real challenge. By embracing CRM solutions, company leaders were able to offer their customers the kind of personal attention that had defined their organization from the beginning. In the words of company President and Partner Paul Leary:
"When someone makes a purchase with us, the next morning at 10 o'clock, they automatically get a personalized email … By placing emphasis on relationship-based sales instead of transaction-based, we're able to increase customer retention and satisfaction, referrals, and order value."
Bespoke identified the right CRM tools it needed to make this kind of direct customer connection happen.
You can read in more detail about how Bespoke Collection used its CRM system to improve client relationships.
Activision is known to gamers the world over as the brand behind some of the most popular video games out there. Founded in 1979, the company operates in more than 15 countries, and its 2011 release of Modern Warfare 3 was the largest and most successful entertainment launch at the time, bringing in over $400 million in the first 24 hours. This is only one measure of Activision's success.
The company prides itself on providing a continually amazing experience to its gamers so they can remain satisfied and enthralled long after they've made their purchase. By using Marketing Cloud, Activision monitors social media conversations that are relevant to their products. Service Cloud then helps Activision follow up on those conversations. And, given that social media customer service is less expensive than conventional methods, Activision found that it was able to decrease its annual customer service operating expenses by 25%. As explained by Tim Rondeau, Activision's Senior Director of Customer Care, "We're reducing costs and increasing satisfaction at the same time."
Like Activision, you can augment your CRM system with customer service and marketing software.
The mission is simple: Xtreme Lashes is dedicated to "enriching and empowering lives by delivering on our promise to provide revolutionary beauty products, unparalleled client support, and comprehensive education." The company started with a simple yet popular product, but quickly expanded to training programs, and has now become a major player in the beauty industry.
With growth can come growing pains, and the COO, Ali Moshfeghian, says, "We needed a single cloud-based platform that could store all our data, run apps for every department, and deliver value to our clients." In searching for CRM system examples, company leaders found a powerful solution that not only helped them manage sales and customer service, but also gave Xtreme Lashes the ability to use native apps and add-ons that only increase their productivity.
The company's investment in a CRM platform, says Moshfeghian, "enabled us to easily create ways to help our stylists and their customers."
Find out more about how a customer relationship platform can scale with your company.